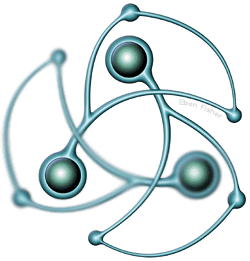 ...

Web Jam
__________________

Place your hand in a bowl of warm jello and think: "I am 75% water." Wiffle your fingers through the mush and think: "Even my thoughts are 75% water." Invite a friend into the jello with you. Touch your friend's belly and think: "Woo, 75% water!" Now, stick a microphone into the jello and suck up some sound from the bottom of the bowl. Play it back into your friend's watery ear. Add reverb. Add oxygen, food, beer, weird things that get your blood moving like chicken wire, vast corporate injustices, and Motown bass riffs. Now think: "Poom! This is one muddy megillah!"
Here in the bio-electronic moment, somewhere between these words and your eyes, we are drawn into a miraculous conflux: a continuum of chemicals, linkages, feedback loops, rumors, waveforms, bricks, smirks, and terror. Yet we are not an All. We are not God. We are not a cozy One. We are a storm of undefinable presences suckling into one another, congealing, folding into a mutual murk. We cyclically strain against and surrender to some wild, howling node that lures us into its vortex.
And the question emerges: how do we extract pleasure from this timeless suction? Can our tender beings integrate with the swirls of microbes, convection currents, iron ore, cash flows, local and international media, metaphorical inversions, the very biosphere in which we breath, and still delight in the mix? Can we jam in such a dense foam of thought, blood, and wire? Can we open our dumb, simian circle out towards an infinite latice of pulsations?
Let us jam in the web, fellow animals! Let us be symbiotic, and connected. Let us induce high-density confluences of creatures, machines, and symbols. Let us pull every kingdom, phylum, class, order, family, genus, and species into the oil with us. Let us jam with our neighborhoods, satellites, refridgerators, insects, rickshaws, and meteor showers. Let us protrude into the common wilderness, the radical center of mutual survival. There let us lay web upon web, inject system into system, inducing vital rituals of mongrel possibility. Let us liquidate being and coil into the nervous suction of life.
_________________
-RITES-
--1--
Call a meeting.
--2--
Secure a site in a culturally "neutral" area such as an abandoned warehouse.
--3--
Inhabit space for many weeks, building webs of many different materials and media, extending them, weedlike, into the entire area of the site. Roving musicians, networks of video cameras and monitors, robotic sculptural tangles, food-to-recycling systems, the local mice population, and the air itself, are all regarded as a web or system. Singular works of art or stationary performances are not appropriate.
--4--
Continue to hold regular meetings to encourage intricate webs of thought as well as substance. Encourage web overlaps, breakdowns, and recombinations. Encourage information tendrils to grow beyond the site -such as posters, electronic transmissions, and rumors.
--5--
Build to a peak of multi-web rhythm. Invite an audience in as the final biological web which completes the jam.
--6--
Jam until the entire universe folds into the mix.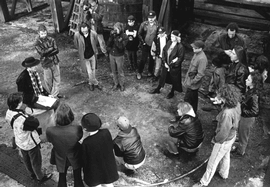 Organizational Circle for "Organism"
_________________
Organism
The First Web Jam
Williamsburg, Brooklyn, 1993
"Call it the sequel to the rave... For 12 hours more than 2,000 people pushed into an abandoned mustard factory to see the work of 120 artists, featuring everything from exploding watermelons to performers rapelling down silos."

--Melissa Rossi, Newsweek, 1993

"These live events are all about collaboration and convergence: they are an attempt to compress people, technology, art, and ideas into a cultural reaction chamber. One of the most memorable of these was the Organism Web Jam, which for twelve hours transformed Brooklyn's Old Dutch Mustard Factory into a thumping, pulsing incubator of interaction."

--Peter Boerboom, Mute Magazine, 1997

"Organism ...was a sensory overcharge." --Jonathan Fineberg, Art Since 1940: Strategies of Being

"Must I Org? Yes, I Orged! I Orged! I was devastated! ...Really the most thoroughgoing environmental event in 'burg history. It was integrated, witty, cool, and I fell asleep in a tangle of lovely bodies in 'The Womb.' "

--Media de Vyse, Waterfront Week, 1993

"Organism Diaries" on Artnetweb: http://www.artnetweb.com/organism